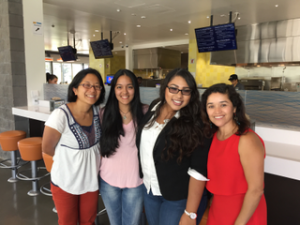 l to r: Michelle Ko (faculty mentor), Sonam Kumari (UPHS Scholar), Veronica Zepeda Pontifes (UPHS Scholar), Miriam Nuno (faculty mentor)
Applications are now closed.
The goal of the Undergraduate Public Health Scholars program is to provide a mentored summer research experience in public health sciences. Students will have the opportunity to gain hands-on experience in one of the many types of research activities conducted by faculty in the department, from epidemiology of health disparities, to environmental health and health policy.  Students will receive a stipend of $3000 for a 10-week program in research for the summer of 2018.  Students are expected to work 30 hours per week, meet weekly with faculty mentors, and attend a weekly scientific skills seminar conducted by Educational Enrichment & Outreach Programs (EEOP)/ Biology Undergraduate Scholars Program (BUSP).  Students will present their research with their faculty mentors at one seminar and participate in the BUSP Poster Session.
Eligibility: Qualify for the Educational Opportunity Program/Identify as an underrepresented minority (African American, American Indians, Alaska Natives, Native Hawaiians and other Pacific Islanders, /Hispanic/Latinx) /Have a disability/Participate in the BUSP or BUSP-STARS/. Students do not have to be in the College of Biological Sciences. Students from ALL disciplines are encouraged to apply.
To apply: Interested students should refer to the list of participating faculty. and contact the faculty member to arrange an interview to meet and discuss potential projects.  Following the interview, students should email an application, that includes: student ID, year, eligibility category, the following attachments:
1) Applicant statement (one page, single-spaced, 12-point font, Word/Google Doc/.pdf) which answers the following questions:
Why do you want to participate in the Undergraduate Public Health Scholars program, and how will your experience contribute to your career goals?
Describe your proposed research project for the summer: faculty mentor, topic, question(s) to be investigated, and your role/responsibilities.
2) Resume or CV
3) List of undergraduate courses taken
Deadline: May 11, 2018.
Notice of Award: May 15, 2018.
Program Dates:  June 25, 2018- August 31, 2018 (Poster session on Aug. 31).
Submit applications to: mijko@ucdavis.edu (Michelle Ko, MD, PhD, Assistant Professor, Department of Public Health Sciences)
The Undergraduate Public Health Scholars Program is funded by the UC Davis Department of Public Health Sciences and the UC Davis Center for Reducing Health Disparities.
National Undergraduate Opportunities in Public Health
CDC Internships and Fellowships for Minority Health
CDC-Hispanic Association of Colleges & Universities National Internship Program